Another map of Liechtenstein

Beautiful...Little....Liechtenstein!!!
Date: August 12 - 14, 1999
Another stop along the grand tour after leaving Strasbourg and the solar eclipse. This is a VERY small country. After entering Liechtenstein from Austria, we started looking for our hotel located in the town of Vaduz just to find out we had missed it and were just about to enter Switzerland. Talk about not blinking or you will miss it, we almost did. The town of Vaduz was a wonderful, quiet and friendly town. While in town Eddie got to stop by the main post office and pick up some of the beautiful stamps that Liechtenstein is well known for producing.
The next day Eddie and Sheena drove to the mountain town of Malbun and hiked up Augstenberg, 7,740 feet high. It was an incredible hike to our 1st summit in the Alps. The way down was extended with a stop at the Pfalzerhutte for a warm lunch and beer. The hike back to Malbun was longer than expected from the hut, but the scenery was stunning and well worth every step.
Cheers,
Eddie and Sheena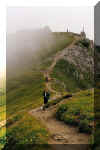 The background image is of Sheena hiking a up from the Sareiser Joch toward the summit of Augstenberg in the Liechtenstein Alps. We made this hike while staying in Vaduz, August 13, 1999.